HOW LONG DOES SCALP MICROPIGMENTATION LAST?
Have you been considering scalp micropigmentation (SMP) but concerned about how long it will last?  Well, I will be answering this commonly asked question in depth.  First, I will explain where the ink is implanted within the skin and the reason it is considered a semi-permanent treatment.  I will also discuss ways you can help make your treatment last longer and looking sharp.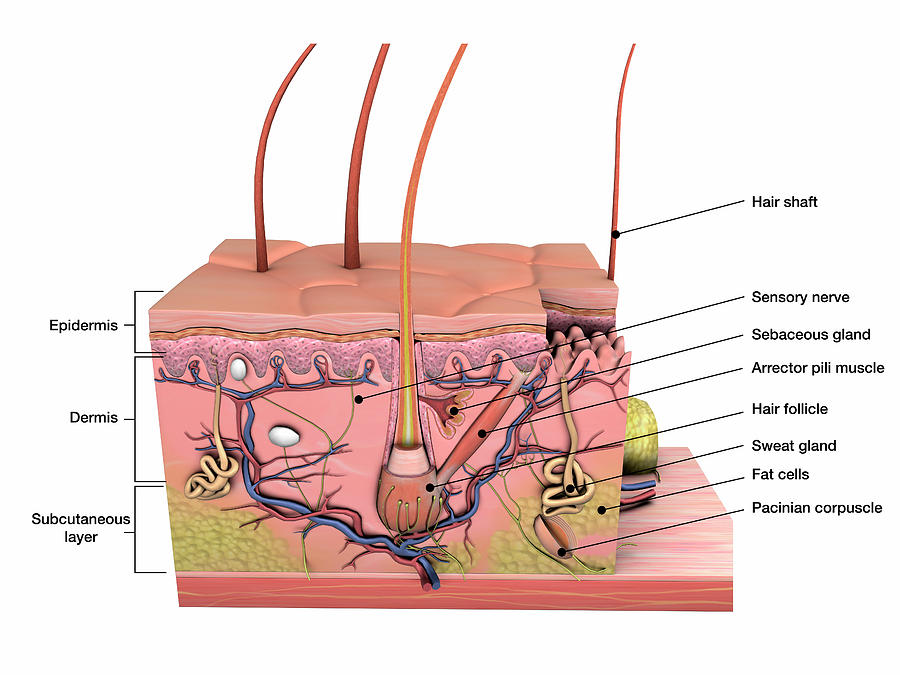 Our Skin:
Our skin is the largest organ in the human body and is composed of three layers.  The outer layer, that is visible is the epidermis, this layer works to provide protection from the outside world. The second layer is the dermis, contains connective tissue, blood vessels, oil and sweat glands, nerves, hair follicles, and other structures. The third layer, the most innermost layer is the hypodermis or subcutaneous tissue. This layer is mainly composed of fat cells, connective tissue, large nerves, and blood vessels.
HOW LONG DOES SMP LAST….
Scalp micropigmentation is very different from a traditional tattoo because instead of implanting the ink purposely into the second layer, the dermis; the ink is placed just below the epidermis into the very top part of the epidermis. Traditional tattoos are placed deeper to assure they are permanent, the downside of implanting the ink that deep is that over time there will be some migration. This however can be very detrimental with scalp micropigmentation the last thing we want is migration because we are attempting to replicate tiny hair follicles. The ink is only place between 1.5-2mm deep, for this reason scalp micropigmentation is considered semi-permanent. However, I consider scalp micropigmentation permanent because it will never go away 100% but will however slowly fade over time. Normally the treatment will last between 2-5 years before a touch-up is desired.
SKIN TYPES AFFECT SMP:
Take into consideration that we are all have different skin types and thickness of skin and for this reason it is critical to find a skilled technician that understands skin, its conditions and has that finesse to find the sweet spot. This skilled is learned over time and with a lot of practice. It is imperative that your artist is using the correct machine and needles to practice this technique.
Skin types also affect how long scalp micropigmentation will last. Dry, flaky skin will slough off taking the ink with it faster compared to healthy moisturized skin, therefore it is important to care for your skin and use a good moisturizer. I discuss moisturizers in a different video but an easy to find moisturizer to use before bed is AVEENO.
SKIN TONES AND SMP:
Skin tone also is a major factor for scalp micropigmentation. Someone with darker skin can tolerate the sun much longer than someone with fair skin. UV light is scalp micropigmentation's #1 enemy. Someone with light skin will require a lighter shade of ink to be used whereas someone with a darker complexion will need a darker tone. What this ultimately means is someone with lighter complexion may need more touch-ups. This is very important to understand, many clients want to go much darker than recommended. Our #1 priority is that your treatment looks natural, and it's your artist's job is to find a color that is appropriate for you.
I always recommend wearing sunscreen or protecting your head with a hat if you plan to be in the sun for an extended amount of time. Chlorinated pools and the ocean can also affect your treatment, but this is the reason we provide touch-ups.
EXTENT OF HAIR LOSS:
Another factor is the amount of hair loss you first started off with. Someone who just had a small area to cover like a Norwood 1-3 can go longer without a touch-up compared to someone with extensive hair loss, a Norwood 5-7.
Touch up sessions are much shorter than the original treatment and can range from 1 to 2 hours. The cost will also be less. I hope this information was helpful and answered some of your questions regarding scalp micropigmentation and touch-ups.
SMP FOR MEN: https://pureinksmp.com/services/smp-for-men/
SMP FOR WOMEN: https://pureinksmp.com/services/smp-for-women/
AVEENO: https://www.amazon.com/Aveeno-Moisturizing-Soothing-Emollients-Fragrance-Free/dp/B001459IEE/ref=sr_1_5?crid=2RZQ7T4MP3BRJ&keywords=aveeno&qid=1649853857&sprefix=aveeno%2Caps%2C255&sr=8-5
skin anatomy picture: https://www.bing.com/images/search?view=detailV2&ccid=M5xgj19K&id=A6F966B4B621E39CFB118202BEE061A374D8F5AB&thid=OIP.M5xgj19KIVtwD-ftMQDbowHaFj&mediaurl=https%3a%2f%2fimages.fineartamerica.com%2fimages-medium-large-5%2fanatomy-of-human-skin-with-labels-hank-grebe.jpg&cdnurl=https%3a%2f%2fth.bing.com%2fth%2fid%2fR.339c608f5f4a215b700fe7ed3100dba3%3frik%3dq%252fXYdKNh4L4Cgg%26pid%3dImgRaw%26r%3d0&exph=675&expw=900&q=Skin+Anatomy&simid=607992538461243865&FORM=IRPRST&ck=EB5F7C6C5FF9D9EE23464301A5CC9002&selectedIndex=0&idpp=overlayview&ajaxhist=0&ajaxserp=0
Norwood scale: https://www.bing.com/images/search?view=detailV2&ccid=QtYM238A&id=31DAB43357F75C0103F16F85A2893A6713CE4A1B&thid=OIP.QtYM238ABbst9tu8EPvcdgHaE7&mediaurl=https%3a%2f%2fwww.veraclinic.net%2fwp-content%2fuploads%2f2020%2f02%2fTheNorwoodScale-ss.jpg&cdnurl=https%3a%2f%2fth.bing.com%2fth%2fid%2fR.42d60cdb7f0005bb2df6dbbc10fbdc76%3frik%3dG0rOE2c6iaKFbw%26pid%3dImgRaw%26r%3d0&exph=1140&expw=1712&q=norwood+scale+picture&simid=608009555117355491&FORM=IRPRST&ck=805755BEB7F5CBEE3D0307D45F025A41&selectedIndex=17&ajaxhist=0&ajaxserp=0
Pictures provided by: Canva
Micropigmentación Capilar | Hair Tattoo | San Diego